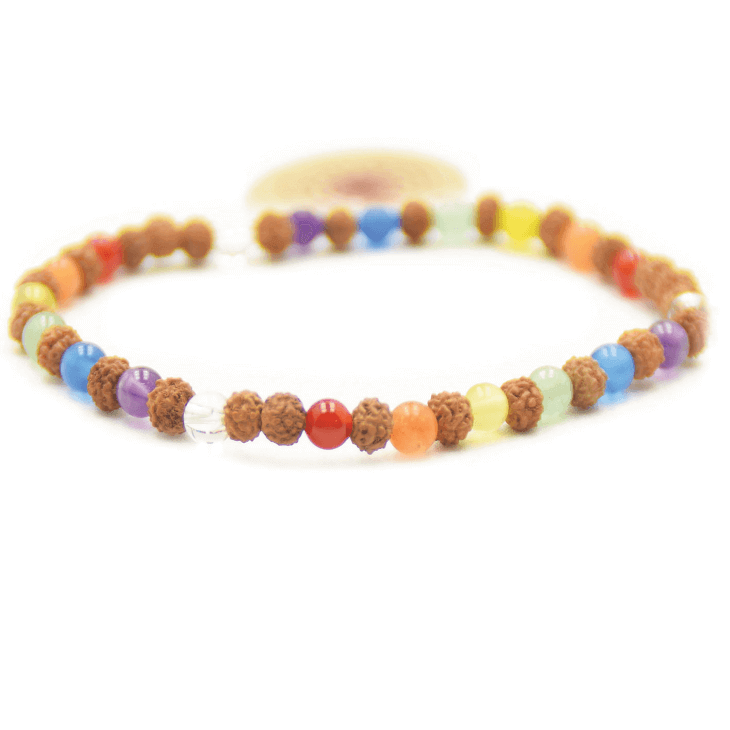 Mala Bracelet - Chakra Power - Miniature Rudrakshas and a set of gemstones representing each of the seven chakras
---
The Chakra Power Mala Bracelet is an impressive piece of jewelry that impresses both aesthetically and energetically. It consists of miniature Rudrakshas and a series of gemstones of a delicate size, representing each of the seven chakras.

Rudrakshas are known for their spiritual properties and are often used in meditation and prayer beads. They are believed to offer the wearer calm, clarity and direction.

The seven gems represent the colors and energies of the seven chakras:

Red Aventurine represents the root chakra, which represents our physical existence and our sense of security and stability.
Carnelian represents the sacral chakra, which is associated with creativity, sexuality and emotionality.
Serpentine represents the solar plexus chakra, which represents our confidence and willpower.
Aventurine represents the heart chakra associated with love, compassion and healing.
Turquoise represents the throat chakra, which represents our communication and expression.
Amethyst represents the third eye chakra associated with intuition, clarity and spiritual awareness.
Quartz crystal represents the crown chakra associated with divine awareness and spiritual connection.

Wearing this mala bracelet can help promote balance and harmony between all chakras. It is a meaningful gift for yourself or someone seeking spiritual growth and balance in their life.