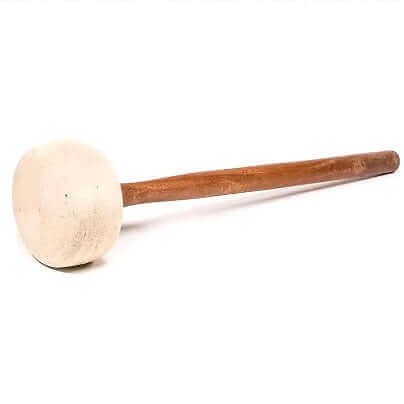 Felt mallet with wooden handle XL - the sound master for large singing bowls
---
Immerse yourself in the impressive sounds of large singing bowls with our size XL felt mallet. The sturdy wooden handle offers excellent handling and control, while the generous 10 cm diameter felt barrel produces deep and resonant tones.

Product features:

Sturdy handle made of selected wood for durability and comfort.
Large felt ball with a diameter of 10 cm, ideal for lower tones and larger singing bowls.
Handcrafted for the highest quality and precision.

A notice: The mallets are sorted by size. The specified weight is only intended as a guide. Please note that actual weight may vary due to the natural nature of the wood.

With our size XL felt mallets, you can bring your singing bowl to powerful life and create a deep and meditative sound experience. Ideal for anyone who wants to use the full potential of their large singing bowls!