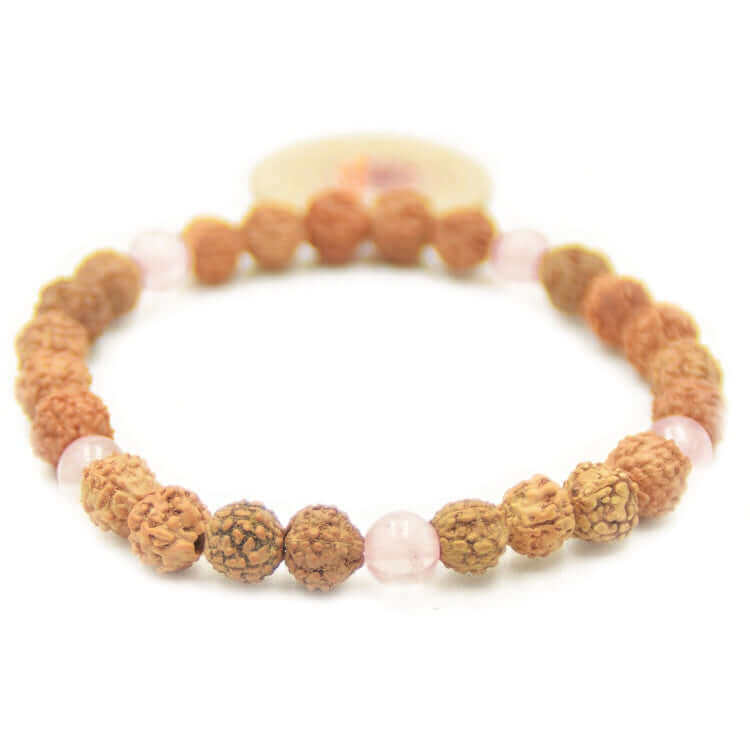 Mala Bracelet - Love Stone - Rudrakshas and various rose quartz beads
---
The Love Stone Mala Bracelet, available in sizes M and L, is made from Rudrakshas and various rose quartz beads. Rose Quartz is known as the stone of love and compassion. This soft pink colored quartz is often used to open and balance the heart chakra or fourth chakra (Anahata) and is simultaneously connected to all other chakras.


The use of rudrakshas in mala necklaces and bracelets has a long and revered history. Discovered by the Hindus thousands of years ago, these sacred seeds are considered sacred in many cultures. Rudrakshas are believed to offer the wearer calm, clarity and direction, creating space for positive energies and thoughts. It is believed that smaller rudrakshas are rarer and energetically stronger.

The Love Stone Mala Bracelet can therefore be seen as a powerful tool for self-love and compassion while promoting calming and clear energies. Its beauty and energetic properties make it an ideal gift for yourself or someone you love, and it can also be a valuable addition to any spiritual practice program.